After some 50 years stashed away in my house loft and having survived three house moves, I discovered this British Railways publicity booklet.
Published in October 1962, this booklet was distributed to Southern Region commuters. It covered the scale of daily operation, the difficulties faced and an explanation of the most common problems, such as fog, snow and ice.

Amazing foresight, as the following winter was to be of the worst on record and saw, for the last time, the widespread use of steam locos assisting stranded electric multiple units, right across the region.
In 1962, I was just a young boy keen on railways.
My late uncle traveled daily by train to London Bridge where he picked up this booklet and gave it to me knowing of my interest in railways.
Many passengers were getting fed up with delays and cancellations so this public relations booklet was British Railways attempt at enlightening commuters
to the many decisions and work that goes on 'behind the curtain' that the public is not generally aware of.
I have scanned the pages and made them into one PDF publication. The PDF is a large file at 29MB consisting of 44 pages.
Could have made this PDF smaller, but the text readability would then have been degraded (fuzzy) making reading more difficult.
The original pages have become rather stained as if sticky tape had been once attached.
Currently the file is uploaded to an access controlled directory unavailable to general web surfers.
You are more than welcome to view or download this file by requesting logon details (free of charge) - see below.
I will reply to your email with the required logon info (user name and password).
You will only receive one (respond) email, your email address will not be added to my address book or divulged to anyone.
The reason for logon is the PDF file is large and I don't want general casual web surfers down loading this large PDF and then not reading it,
thus adding unnecessary bandwidth loading to my paid web hosting server provider.
If you do request logon details, then I can be fairly confident of your real genuine interest.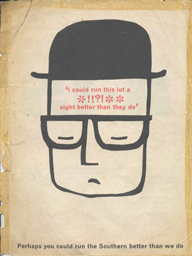 Request logon details from:-
miscellaneous_77_1951ATmybtinternet.com . . . . replace the AT with @ and include BR1962 as the email subject title which will catch my attention.

The PDF link is:
www.weathercharts.org/railway/brbooklet1962/BRbooklet1962.pdf
After entering the logon details - the PDF will automatically download. Please wait until the download completes.
David.
keywords - british railways southern region want to run a railway - perhaps you could run the southern better than we do
- which 8.15 to town - have you ever heard of control - clockwork - signalling fault - track circuit failure
derailment - owing to fog - fog service - an incident at - snow and ice - broken rail - southern ahoy - g8kpy